EVO Visian ICL, also called an Implantable Collamer® Lens, is a refractive implant to correct common vision issues like myopia (nearsightedness) with or without astigmatism. Unlike some other vision correction options, the EVO Visian ICL is an additive technology that corrects vision without the removal of any corneal tissue. The EVO Visian ICL is meant to reduce or eliminate the need for glasses and contacts and unlike most permanent refractive solutions, EVO Visian ICL is removable by your doctor, for added peace of mind.
EVO Visian ICL is made of biocompatible Collamer material that works in harmony with your eye. Your eye doctor will create a small opening in your cornea that will be used to insert and position the EVO Visian ICL. For most patients, the procedure is virtually painless with numbing drops and it typically takes less than 20 - 30 minutes. Patients typically experience improved vision right away and a quick recovery time.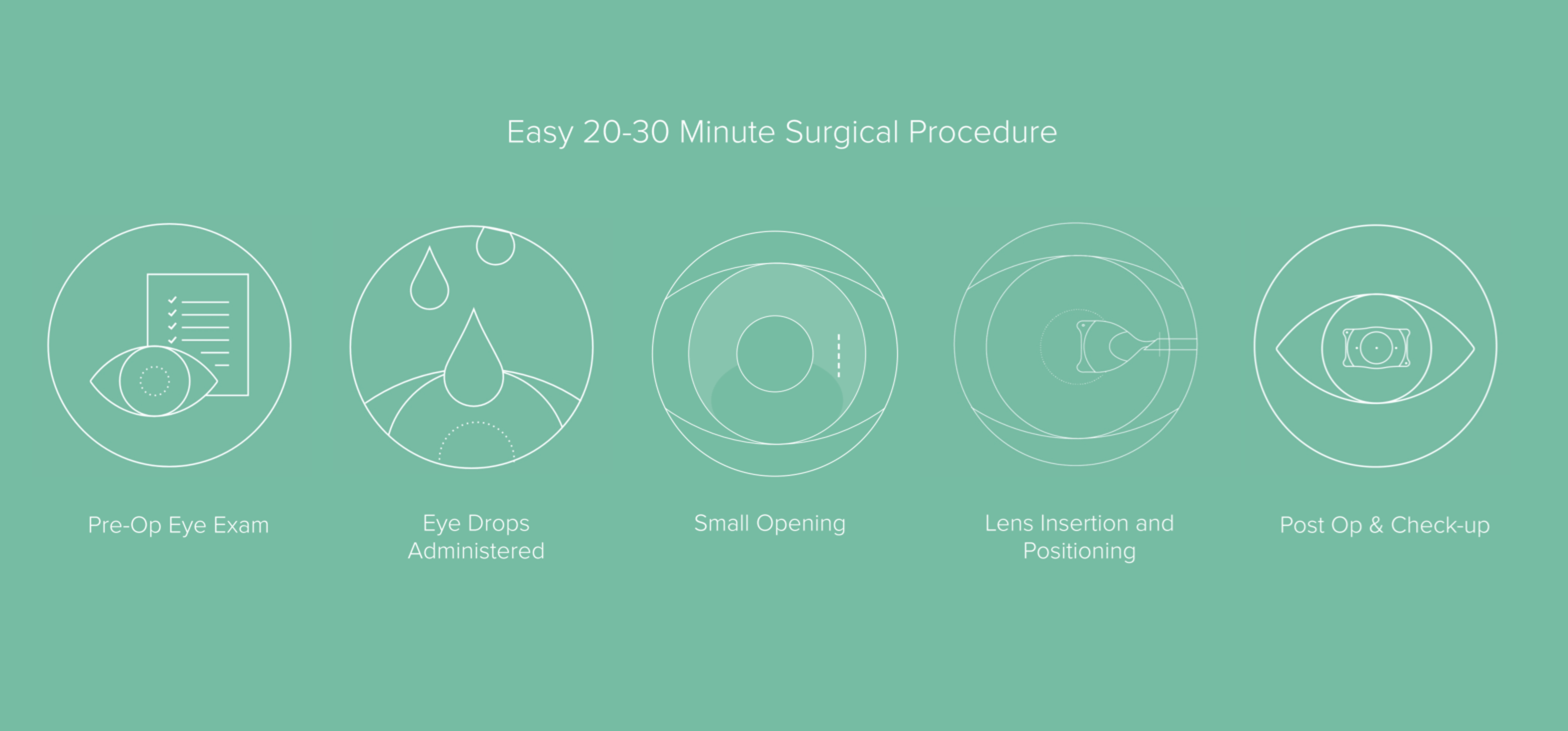 Benefits of EVO Visian ICL
Provides clear, sharp vision
20 to 30 minute procedure
Quick recovery time
Removable by your doctor
Offers UV protection
Not visible once in place
Can treat nearsightedness with or without astigmatism
For patients who may not be candidates for LASIK or other vision correction procedures due to thin corneas
Does not cause dry eye syndrome, which can be a potential side effect of other vision correction procedures
Excellent night vision
Reviews
"Every staff member had a welcoming smile and treated myself and others with the utmost respect! One of the nicer eye doctors I've been to. Even had some nice art around the lounge!!"
- J.W. /
Yelp /
Nov 20, 2019
"I went to their office in Greenbelt and they treat you with respect and very professional way."
- B.T. /
Facebook /
Oct 31, 2019
"ICL surgery went extremely well. I initially went to Lasik but my eyes were too weak (-12.5 eye presecription with astigmatism), a little older than some at 49 and my corneas too thin. They recommended me to Dr. Solomon, and I am very grateful that they did. From my initial exam to post surgery Dr. Solomon and his staff have been exceptional. I had some eye prescription stability issues with the initial visit, so I had to where my glasses for a week, once my prescription stabilized, I had the surgery and then had issues with eye pressure. After a few eye visits and some additional eye drops I could not be more pleased with the results being able to see everything so clearly without any contacts or reading glasses."
- R.T. /
Google /
Oct 26, 2019
"ICL surgery went extremely well. I did have some eye pressure issues after surgery but the office gave me medicine to relieve the pressure and follow up appointments all free of charge. I couldn't be more pleased with the results. My eye prescription was -12.5 with astigmatism, now I see 20/20 without any type of lenses. Not bad for a 49 year old. I highly recommend Dr Solomon and his staff for your eye care."
- R.T. /
Google /
Sep 29, 2019
"Would recommend to everyone. My wife and I have been patients of Steve Solomon and then Johnathan Solomon for years. We both have had cataract surgery which has been wonderful and life changing. Office staff super helpful. Jasmine G is a real asset. If we could give them ten stars we would!!!"
- J.D. /
Google /
May 14, 2019
Previous
Next
Is EVO Visian ICL Right for Me?
EVO Visian ICL is well-suited for a wide variety of people. Ideal candidates for EVO Visian ICL are aged 21 to 45 with nearsightedness with or without astigmatism and have maintained a stable prescription for at least one year. If you are seeking a solution to decrease or eliminate the cost and frustration of traditional contacts or glasses, EVO Visian ICL may be your answer. Contact us to discuss if EVO Visian ICL is right for you.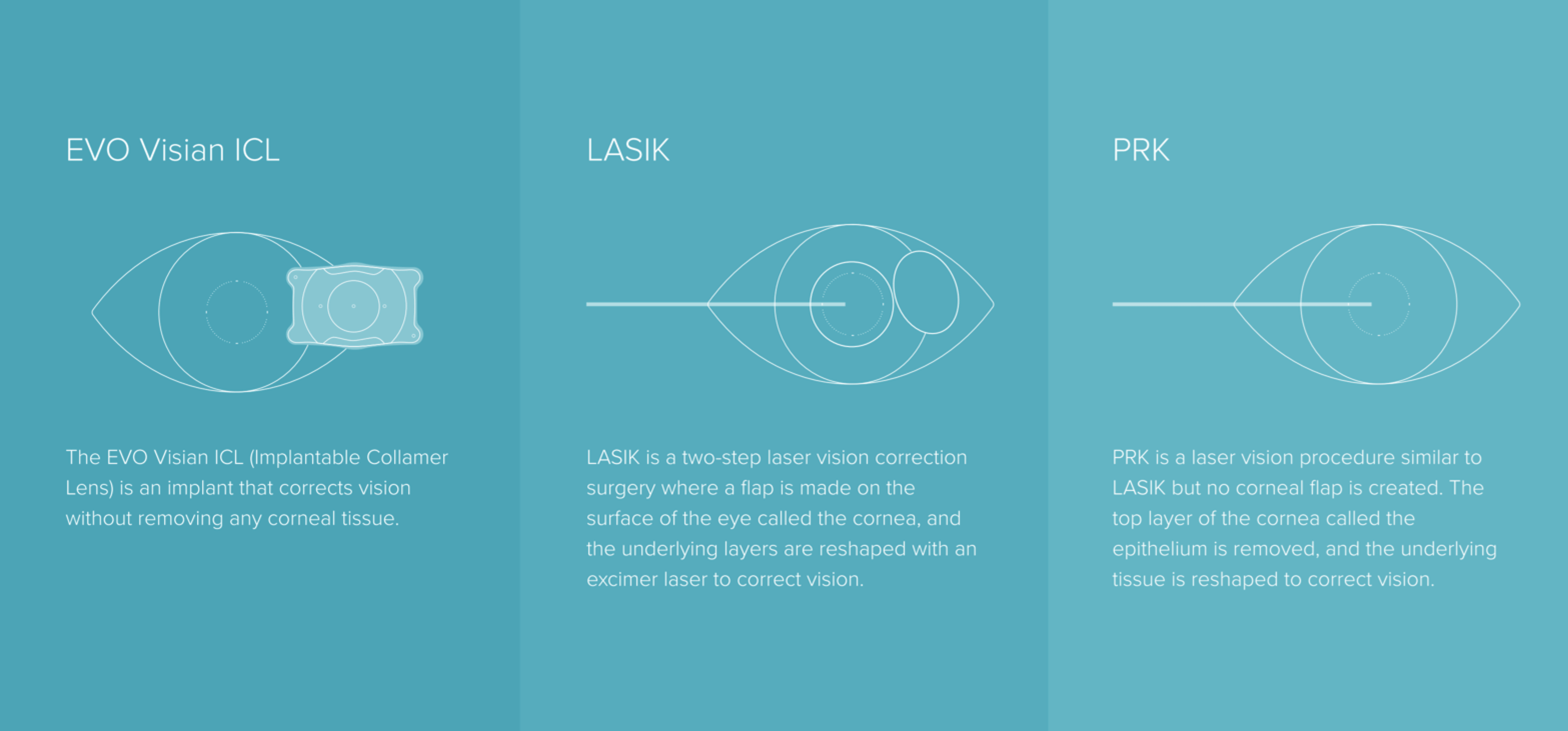 Which Option is Right for Me?
This chart breaks down the general candidacy guidelines for each procedure. During your initial consultation, your eye care professional will discuss your measurements and help you make the right choice depending on your unique vision.